Wenlo Riding for the Disabled Group
'When you mount a horse your disability disappears and your abilities appear'
WE ARE WORKING TO UPDATE THIS WEBSITE.
FOR THE VERY LATEST INFO PLEASE SEE OUR FACEBOOK PAGE
***NEW***
UPDATE from Wenlo Trustees
20 May 2020

Some pictures of our ponies enjoying time off during the "lockdown"
UPDATE from Meadow School of Riding
including how you can help support the horses and ponies while under lockdown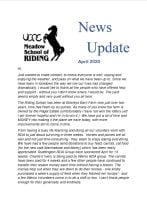 If you would like to donate to Wenlo RDA directly please use our Virgin Money Giving link or email us for further information
***CORONAVIRUS (COVID-19)***
UPDATE FROM WENLO RDA TRUSTEES 24 MARCH 2020

Please note that following yesterday's announcement from the Prime Minister and in line with guidance published today by RDA UK,
ALL WENLO RDA RIDING SESSIONS HAVE NOW BEEN SUSPENDED UNTIL FURTHER NOTICE.
Wenlo RDA Group is based at
Bowleys Barn Farm
Stanford Road
Normaton-on-Soar
Loughborough
LE12 5ER

Wenlo RDA Group offers adults and children of all ages with physical and/or learning disabilities an opportunity to ride and look after horses to help their health, confidence and self-esteem. We aim to teach new skills and promote independence by encouraging our riders to take charge of their horse in a safe and secure environment.
Our group is wholly dependent on our team of volunteers. You don't actually have to have any horsey or riding experience to be a volunteer as full training is given, you just need a willingness to want to help others achieve.
Our riders are offered a variety of activities in addition to lessons. Some may want to compete in Regional and National events organised by RDA UK, others can enjoy riding in the beautiful countryside right on our doorstep, some riders just long to be around horses, stroking, grooming and exploring the sensory experience at their pace.
Wenlo RDA Group Est. 1991